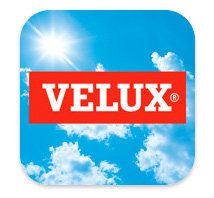 Velux Certified Installers
Mobile: 07777 697723
Office: 01992 464131

Email: Andrew1Hooper@btinternet.com

Slate roofs we have renewed and repaired over the last 30 years providing a high level of roofing service to our customers. Slate roofs are one of the best forms of roof construction/protection and offer one of the longest life spans of all roof constuction, we renew and repair all types of slate roofs to the highest standard using the best natural slates on the market. Slates we use are Spanish Welsh and Chinese. Most victorian homes will have welsh slates from original and the roof structures would have been designed to only carry the load of slates and not heavy concrete interlocking tiles. Sadly many homes in the 70s,80s & 90s were re-roofed in concrete tiles which over time have caused the roofs to sage under the heavy load which can often be seen with the apearence of the tiles above deviding walls appearing to rise when actually the centre of the roof is dropping. Additional timber purlins and props can be added to help reduce this movement but often the best long term choice is to strip the roof off all the heavy concrete tiles and renew in slates which the roofs were designed for.
Slate Roof Replacement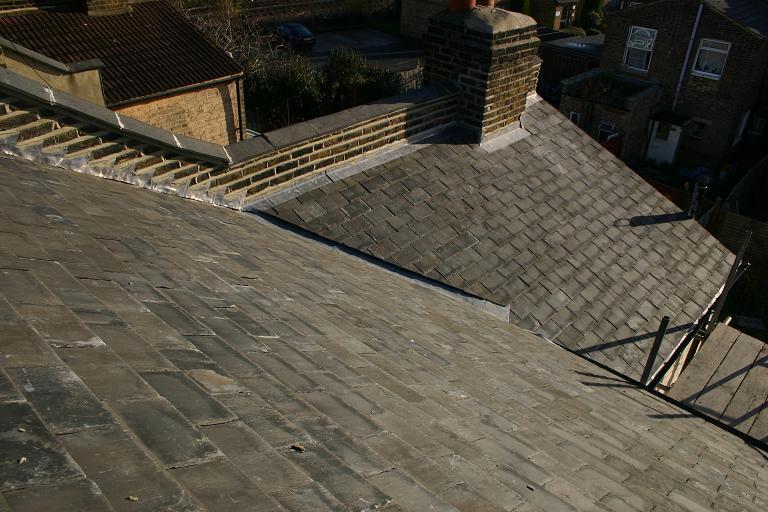 Epping, Essex
To the right is a slate roof renewed in Walthamstow East London, the roof battens, nails and flashings were weathered but the roof slates were in good order but slipping out due to the nails decaying. The roof was stripped and all good quality slates set aside approx 70% the roof was then felt and battened with breathable felt, Tanalised battens and Galvanised nails. We then fitted a new Lead Valley to the rear addition and re-slated the roof with all salvaged slates and new salvaged slates to match existing roof slates, new Lead soakers were installed to all wall abutments, once all slates were fixed using Copper nails the Lead stepped flashings were cut to size and fixed to all wall abutments and then pointed with a 4-1 pointing mix of sand and cement, finally the ridges were rebeded with a 3-1 mix of sand and cement

Slate Roof Replacement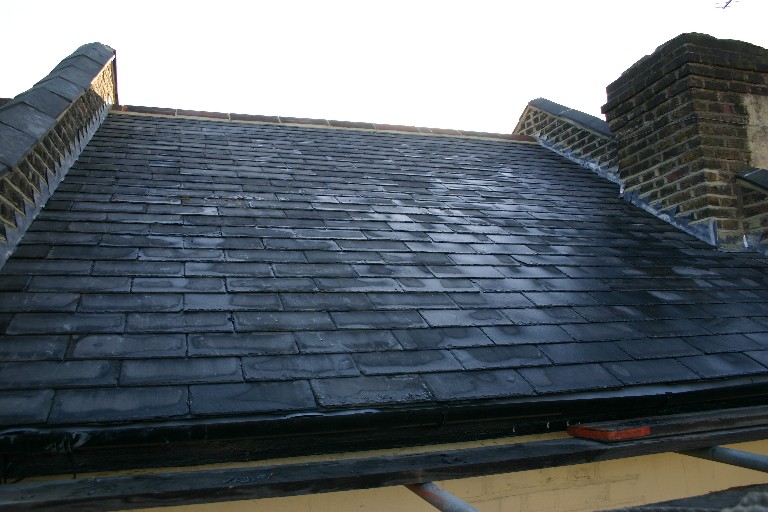 Enfield, London
On the Left is a new Slate roof renewed in Enfield Middlesex London. salvaged second hand slates were used along with the existing slates salvaged. 2" X 1" Tanalised battens were fixed on Tyvec breathable felt fixed with Galvanised nails. All soakers to wall abutments were in code 3 Lead and all stepped flashings into brickwork were in code 4 Lead, roof slates were all fixed with copper nails
Slate Roof Replacement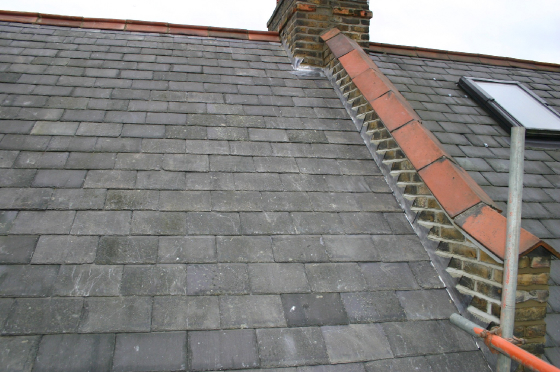 Enfield, London
Above is one of the many Slate roofs that we have renewed, The slates used on re-roofing the above property are 20" x 10" chinnese slates fixed withe Copper nails on 2 x 1" tanalised battens and breathable felt.
The roof on the right is in Crouch end, London and was renewed using salvaged roof slates, all slates were carefully stripped with all good quality slates set to one side. The roof was felt and battened with Breathable felt and Tanalised bettens fixed with Galvanised nails. Code 3 lead soakers were fitted to all wall abutments as the roof was re-slated, code 4 Lead stepped flashings were fitted into parapit wall abutments and pointed with sand/cement 4/1
Above is a slate roof on a 3 storey property in Hampstead, London. All the existing slates and battens where stripped, new tanalised roofing battens and breathable felt fixed to roof rafters. Spannish roof slates where fixed with copper roofing nails, also all new Lead roof flashings to parapit walls and chimney stacks.
link
Slate Roof Repairs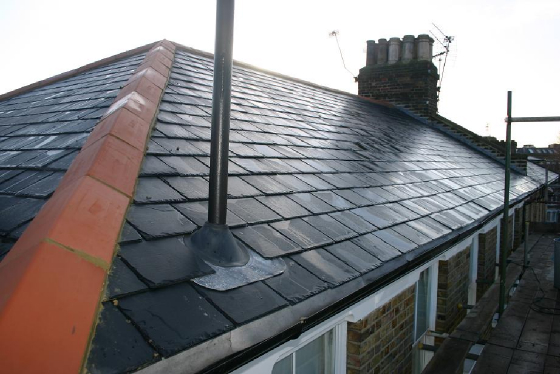 Hampstead, Camden
On the left is a new slate roof renewed in Hampstead london, All slates and battens were removed and cleared from site, the slate were not re-usable due to back in the 80s a cheap repair of coating the roof with a fine mesh and bitchumen was carred out making the slates not reusable so on this roof we used Spanish 20" x 10"slates. All roof slopes were felt and battened in Tanalised 50mm x 25mm battens and breathable felt, new spanish slates were fitted with Copper nails and code 3 soakers to parapit wall abutments. Code 4 stepped Lead flashings were fixed to walls and new clay hip and ridge tiles beded with sand/cement 3/1
roofers near me - 40500
tiled roof - 33100
roofing supply roofing - 40500
near me - 14800
rubber roofing - 14800
roof sheeting - 14800
corrugated roof sheeting - 14800
roofing companies near me - 12100
roofingsuperstore - 12100
the roofer - 12100
slate roof - 9900
conservatory roof - 9900
fibreglass roof - 9900
conservatory roof replacement - 9900
roof shingles - 8100
roof repair - 8100
roof repair near me - 8100
corrugated roofing - 8100
rooflights - 8100
metal roof sheeting - 8100
hip roof - 6600
thatched roof - 6600
flat roof - 6600
epdm roofing - 6600
pitched roof - 6600
roofing supply - 6600
grp roofing - 6600
insulated conservatory roof - 6600
gable roof - 5400
greenroof - 5400
roofing contractors - 4400
lean to roof - 4400
flat roof repair - 4400
flashband - 4400
sedum roof - 4400
epdm rubber roofing - 4400
roof seal - 4400
leaking roof - 3600
corrugated sheeting - 3600
flat roof extension - 3600
tiled conservatory roof - 3600
roofing lead - 3600
roofing contractors near me - 2900
roofing companies - 2900
new roof cost - 2900
apex roofing - 2900
zinc roof - 2900
garage roof replacement - 2900
roof moss removal - 2900
warm roof construction - 2900
flat roof construction - 2900
roofing merchants near me - 2900
solid roof conservatory - 2900
metal roofing - 2400
fascia roof - 2400
asphalt roof - 2400
roof ridge - 2400
asbestos roof - 2400
roof valley - 2400
upvc fascia - 2400
velux rooflights - 2400
fascias and guttering - 2400
roof replacement cost - 1900
roof leak repair - 1900
porch roof - 1900
onduline roofing - 1900
warm roof - 1900
conservatory roof replacement cost - 1900
cladco roofing - 1900
checkatrade roofers - 1900
felt roof repair - 1900
mansard - 1600
roof ventilation - 1600
roofers in my area - 1600
cromapol - 1600
local roofers - 1600
garage roof - 1600
firestone rubber roof - 1600
roof extension - 1600
mono pitched roof - 1600
sarnafil roof - 1600
fibreglass flat roof - 1600
conservatory repairs - 1600
pitched roof extension - 1600
rubber flat roof - 1600
roofing lath - 1600
guttering replacement - 1600
roof guttering - 1600
corrugated metal roofing - 1300
tin roofing - 1300
roof construction - 1300
bitumen roof - 1300
roof underlayment - 1300
gable end roof - 1300
roof fix - 1300
isoflex liquid rubber - 1300
sig roofing near me - 1300
marley mendip - 1300
conservatory roof repairs - 1300
conservation rooflights - 1300
roof tile repair - 1300
roofgiant - 1300
warm roof conservatory - 1300
roofing services - 1000
standing seam metal roof - 1000
roof replacement - 1000
standing seam roof - 1000
new roof - 1000
recommended roofers near me - 1000
advanced roofing - 1000
local roofers near me - 1000
single ply roofing - 1000
conservatory repairs near me - 1000
bostik flashband - 1000
redland 49 - 1000
orangery roof - 1000
cold roof construction - 1000
fascia and soffit replacement - 1000
flat roofers near me - 1000
conservatory conversions - 1000
flat roof repairs near me - 1000
guttering replacement near me - 1000
soffits fascias and guttering - 1000
roof waterproofing - 880
copper roof - 880
wood shingles - 880
pvc roofing - 880
check a trade roofer - 880
roofing services near me - 880
flat roof replacement cost - 880
conservatory roof replacement near me - 880
wood shingle roof - 880
grp flat roof - 880
liquid roof - 880
new conservatory roof - 880
wickes corrugated roofing - 880
marley edgemere - 880
liquid rubber roof - 880
loft ventilation - 880
house roofing - 880
marley modern - 880
roofing specialist near me - 880
fibreglass roof cost - 880
guttering installation - 880
clearing moss from roof - 880
gambrel roof - 720
local roofing companies - 720
roofing tar - 720
sloping roof - 720
roof repair cost - 720
crown roofing - 720
roofing cost - 720
natural slate - 720
cedar roof shingles - 720
roof sheeting prices - 720
emergency roof repair - 720
cold roof - 720
asbestos roof removal - 720
roofing specialist - 720
epdm flat roof - 720
trust a trader roofer - 720
flat roof ventilation - 720
flat roofing companies near me - 720
thompsons roof seal - 720
warm flat roof construction - 720
velux conservation - 720
roofing shop near me - 720
roof survey - 720
small roof repair near me - 720
conservatory roof repairs near me - 720
kent roofing - 720
brighton roofer - 720
asphalt shingles - 590
steel roofing - 590
all seasons roofing - 590
roof coatings - 590
flexacryl - 590
roofshield - 590
roof pointing - 590
redland regent - 590
carport roof - 590
confederation of roofing contractors - 590
flat roof drainage - 590
roofcare - 590
flat roof specialists near me - 590
asbestos garage roof replacement - 590
onestop roofing - 590
emergency roofer - 590
velux windows repairs - 590
commercial roofing - 480
concrete roof - 480
aluminum roofing - 480
roof cement - 480
firestone epdm - 480
roof leaks in heavy rain - 480
wood roof - 480
emergency roof repair near me - 480
mk04 velux - 480
roof drainage - 480
industrial roofing - 480
roof apex - 480
corrugated steel roofing - 480
evercryl - 480
velux installation - 480
redland renown - 480
flat roof garage - 480
garage roof repairs near me - 480
flat roof replacement - 480
garage roof repair - 480
gutter and fascia replacement - 480
emergency roofers near me - 480
fibreglass roof repair - 480
guttering installation near me